It is time to buckle down and get some Christmas gifts made. I finally got the Topsy Turvy doll completed that I was working on for my niece.
The yarn was kind of a pain so I kept putting it off.  Christmas will be here before we know it though and I need to get the gifts done that need to be mailed. Lots to do and little time to do it in.
Anyway, the pattern for this doll is from Gourmet Crochet. I knew when I saw the pattern for the Topsy Turvy doll, I had to buy it.
My great grandmother made me a topsy turvy doll when I was little. It was red riding hood and the wolf. It was a sewn, not crocheted. I would give anything to have it back along with the nativity she made me (crocheted). I have no clue what happened to any of that. I was really a destructive little child.
I do have the little Indian doll she made me (minus a shoe.) I am glad I have something she made me. She was really talented. Actually I should note that all my grandmothers were crafty women. Must be where I get it from! Note to self: when kids get homemade toys, put them up when they are bored with them. They will want them as adults.
Anyway, here is the dolly. I like this side best with the little bonnet, shawl, and pink skirt with lacy edging.
Here is the other side of the crocheted Topsy Turvy Doll.  The doll on this side has a bun in her hair and the dress is a little frillier.
I was really pleased with how cute this doll turned out.  I am going to try to get two more made for Arianna and Sierra. I think I am going to change them up a bit.  Arianna's will have brown hair and I will do the clothing on Sierra's doll in lavender. We will see if I get them done. With all of my plans for Christmas gifts, I should have started in July! LOL
Want this Gourmet Topsy Turvy Doll Crochet Pattern?
You can click on the button below to purchase it from Etsy.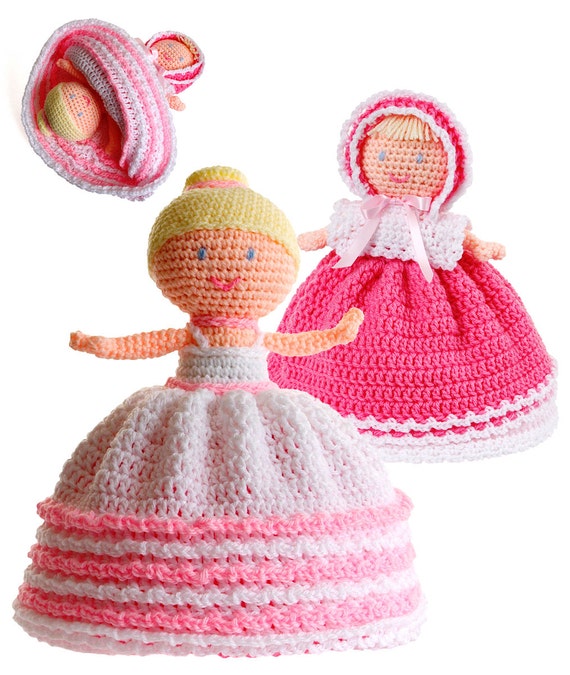 Topsy Turvy Doll Crochet Pattern from Gourmet Crochet

Are you making any gifts for Christmas this year?  Leave me a comment below.  I would love to hear from you!